Check out my interview on notable.ca
Today's Notable Young Entrepreneur is Samuel Kleinberg Jewellers jewellery designer Melissa Spivak, who runs all aspects of the business and has played a key role in its re-emergence as a notable brand for young professional shoppers of diamond jewellery…
Elevator Pitch: Describe your job in a nutshell.
I am the jewellery designer for Samuel Kleinberg Jewellers, where I am responsible for all facets of the business. I am fortunate enough to be able to fulfill this role while working alongside my mentor, my father. Our core business is engagement rings, wedding bands and custom creations. We pride ourselves on working closely with our clients to bring their vision to life. We educate our clients on everything there is to know about diamonds, and we find them the stone that suits their budget and style perfectly. Then, the magic happens… making dreams come true, one ring at a time!
Why did you start working at your company? What was the inspiration for this career route?
My father got into the jewellery business long before I was born. Not surprisingly, his chain of retail stores figure prominently in my childhood memories. I cherished these times when I would play dress up with rings and necklaces. I remember feeling so glamorous, as if I were ready to walk the red carpet… I even tried to assist customers by offering my opinions despite being so young. I also remember going on treasure hunts throughout the store, scavenging the floor for loose diamonds and gemstones; it felt like I won the lottery! Given my positive experiences helping my father's business and the central role jewellery had in my life, it was a natural progression for me to become a jewellery designer and diamond specialist. Jewellery has been such a huge part of my life ever since I can remember through looking up to my Dad as my mentor. This has lead me to the success I have achieved today and continue to strive for.
What is the best part of what you do on a day-to-day basis? The most challenging part?
The jewellery industry is a very happy/festive/positive industry that revolves around celebrations, milestones and fashion. I love knowing that every day I will be faced with new challenges by meeting new people and coming up with new designs that exceed their expectations. I love getting to know my clients personally and understanding the story behind the jewellery I design for them. The store is a really comfortable and stress-free environment to buy engagement rings and custom design jewellery that allows for special connections to be made. I love having clients walk in and tell me they feel like it's their second home and, most importantly, the rewarding feeling of playing a role in a couple's love story.
I also love connecting with people on social media. Facebook, Instagram, Pinterest and Twitter have become amazing outlets for me to showcase my work. And my clients and followers can draw inspiration from them and see the latest trends.
The most challenging part of my job is bringing the image in my clients' imagination to life on the first try. This challenge also happens to be one of the aspects of my work which I enjoy the most. I set the bar high for my success and it's important to me that my client is involved in the design process so that they are 100% happy with their custom creation.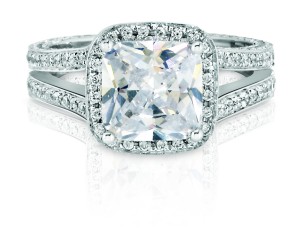 What is one sign that you've seen over the years to suggest that your work/life balance is off?
I have a really challenging time turning off work mode because I don't want to… I love it too much. Even without being in the office I am always looking and observing styles and trends. I find that the night is when my brain goes into overdrive. When I close my eyes to sleep, sometimes I am overwhelmed with all the creative ideas that flow through my mind. I find that keeping a notebook next to my bed to jot down these ideas/images helps put my mind at ease.
Where do you see yourself in five years?
I see myself continuing to reinvent and grow the business. Staying current is essential for success. Identifying new trends and fashion patterns through social media and following the fashion patterns is imperative in keeping up to date with the latest creative styles. My goal is to keep this business relevant by continuing to use these mediums while also challenging myself to keep fresh and original ideas coming down the pipeline.
What is one major challenge that you've had to overcome in your career? How did you overcome it?
Samuel Kleinberg Jewellers was established in 1968. We took over the business in its 4th generation and we had to reinvent it and make it current again. We went after a younger demographic (the engagement ring client) and rebuilt the business from the ground up. We revamped our business model and now the challenge is to keep pushing the bar higher and higher.
Another challenge we had was trying to figure out how to broadcast our message out to both existing and new clientele. Highlighting the advantages of our service and products and differentiating them from others in the industry is imperative to extending our reach. Social media certainly has helped.
How are we different? We don't restrict our clients' selection to products which we have in stock. We educate them on everything there is to know about diamonds and go into the market to find the stone that suits their criteria. Our affiliation with an online diamond network means we have access to over 300,000 certified diamonds. We also help familiarize our clients on the diamond certificates available and why GIA is the most reputable diamond certificate. We can create the design that you love in a budget you are comfortable with. It's the planning and then the creation which is our key to success. Ultimately, we want our clients to have a proper understanding that allows them to make an informed purchase and to appreciate the quality we produce.
What does success look like to you? Does Money = Happiness?
Success to me is seeing my clients smile! It really is the best feeling in the world to know that my client is happy with the final result of their custom creation. Happiness isn't a destination, it is a journey!
What is the most memorable milestone in your career?
In the second year of my career I got interviewed by a jewellery trade magazine about custom design. The editor had come across my work and she asked if I would do an interview for the magazine. It was such a humbling experience and an honour to be recognized for something about which I am so passionate and dedicated.
Do you have any advice for other young professionals?
Find something you are passionate about and make it your career. I know it's easier said than done but the most rewarding feeling is getting a rush every single day from your "job." My career doesn't feel like a "job" because I am completely in love with what I'm doing and constantly driven by the excitement it gives me. It's amazing when a career and passion come together. And when you love what you do, you don't have to work a day in your life.
Where is your favourite place to travel? Why?
I have always been someone who is very inspired by my surrounding from art, architecture, fashion etc. I can't pick just one specific place that is my favourite, but as long as I have sunshine and beautiful scenery, I am in my paradise!
If you had to choose a theme song, what would it be?
Diamonds are Forever – Shirley Bassey.
Do you support any charities? If so, which one(s) and why is that important to you?
I love being able to give back to the community. There are many charities that I hold near and dear to my heart: The Canadian Diabetes Association, Princess Margaret Hospital,  Waldenstrom's Macroglobulinemia Foundation (WMF), Mount Sinai Hospital and Baycrest Hospital.
What to you is notable?
Notable is not just thinking outside of the box, it's about thinking like there is no box. Being creative, innovative and always staying one step ahead.
Blackberry, iPhone, Android, or Other?
iPhone!