It's an incredible and rewarding feeling to play a small role in a couples love story. And it's also very rewarding when a client truly understands and appreciates what makes us unique.
The couple I designed this ring for were already married. She had been wearing her ring for about a year and she had nothing but problems with the setting. Small diamonds kept falling out and the center stone was set on an angle and looked like it was about to fall out.
When you are buying an Engagement Ring often times clients don't realize how important the setting is. So much time and effort is focused on the center diamond and the setting is often overlooked and picked quickly. This is a ring that is going to be worn everyday which means this ring needs to stand up to the test of time. This is something we feel very strongly about and we love creating a durable product that is unlike other manufactures/designers/jewellery stores.
We want our clients to leave here feeling assured that they just purchased a beautiful diamond and a setting that is going to not only be gorgeous but durable too! The craftsmanship of our rings exceed the quality of some of the most well known designers/jewellery stores. Every ring we make is custom made. The entire design is created around the diamond that you have specially picked. Every element of the design including the claws holding the center diamond and all of the small diamonds are designed to the correct height, thickness etc. Many jewellery stores are selling mounts that may look very pretty but the claws are very thin, the diamonds are set on an angle, diamond sizes don't match, the diamonds don't match in clarity and colour. These are all elements that we take the time to make perfect. Our jewellers are artisans who take immense pride in creating works of art!
When our clients first came in they were very weary about the whole process because of their first experience.  They had found us online and what stood out to them the most was the info we had about our Kleinberg Process and Craftsmanship Standards and when they set up an appointment with us we explained it all in detail.
Here is the design and the finished Engagement Ring and Wedding Band:
3-stone diamond Engagement ring featuring a Princess cut center diamond which my customer already had in their first setting. I added the 2-Emerald cut side diamonds which match perfectly in size, clarity and colour. And I added a double row of round diamonds down the band.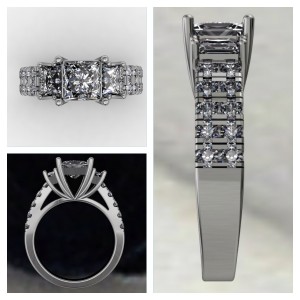 Computer CAD Design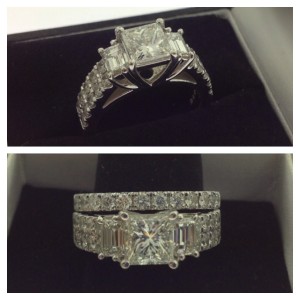 Finished Engagement Ring & Wedding Band
Our clients were very happy with the finished product:
"Giselle and I were drawn to Samuel Kleinberg because of their 3T approach to service.  Through every step of the process, Melissa and Lorne modeled truth, trust and transparency.  They demonstrated the importance of structural integrity within the design, as well as modeling the importance of integrity of service. We greatly appreciated their personalized approach.  They listened to our story, educated us on craftsmanship and transformed our vision into the most perfect custom design.  Our rings are everything we had hoped for.  Thank you for making a difference Melissa and Lorne!"
 Glenn and Giselle M
December 2013