The Stages of Custom Design:
Custom Designing Jewellery is a fun and creative process.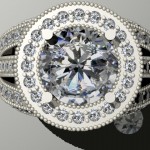 People consider having jewellery custom designed for various reasons. Some clients  have been fantasizing about what their dream engagement ring would look like since they were a little girl and they know exactly what they want. It makes are job so rewarding to be apart of creating happy and romantic moments in our clients life's.
We often come across some very creative people who have already come up with a jewellery design. They need us to create it and fine tune it into a functional piece of jewellery. Often times we have clients who have seen an image or multiple images of jewellery they like, and they may want to reproduce it or combine details from two or even three images. We have had clients who saw someone wearing a beautiful necklace and they want one just like it.  And very often we have clients who want a one-of-a-kind piece that is unique.
We have an immense collection of sample engagement ring designs for our clients to pick from. The beauty of custom designing is we can combine details from a couple of rings together to suit our clients taste.  This also includes any jewelllery in our showroom- if a client sees a pendant in our showcase but would prefer a ruby instead of a blue sapphire, we can do that.
Jewellery often get passed down to family members and if the piece doesn't suit their particular style we will design something geared towards our clients taste. Existing pieces can be redesigned to suit a particular trend, taste, size, or fit.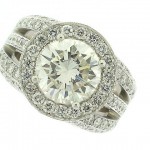 Everyone has their own reason for custom designing jewellery. It has become extremely popular and we love going through the creative journey with our clients. We involve are clients in the step by step process. We do this because it ensures that our client will be happy with the finished piece and because it's a fun process. People enjoy seeing a sketch/3d computer image come to life.
The custom design process starts with an idea that either the customer/designer envisions or a collaboration between the two.
Clients are involved every step of the way from the concept of their designs to the creation of the finished jewellery. The custom design process begins with a sketching of the unique vision. A 3D computer image is then generated. By using 3D CAD technology we have taken jewellery design to a new level.  CAD jewelry design goes beyond the traditional hand sketch and allows the buyer to see a virtual 3D model before the design goes into production. If our client wants to try on a 3d model of their design, upon approval, the computer rendering is made into a wax model. The wax model is then cast in its appropriate metal and the final piece of jewellery is created.
Your design is tailored to you, your life style and your budget. We work with you in creating  beautifully designed and expertly crafted jewellery for you to enjoy and be proud to wear. Our experienced in-house designer Melissa Spivak, is available for assistance with creating distinctive ideas.
Below are examples of custom designed jewellery we are proud to have made.
Criss-Cross Engagement Ring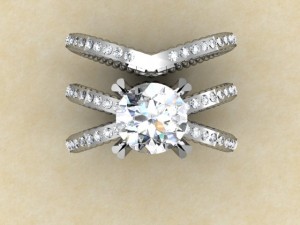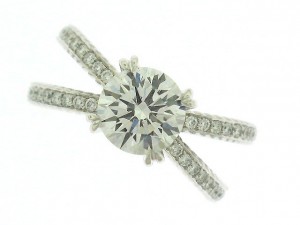 Swirl Engagement Ring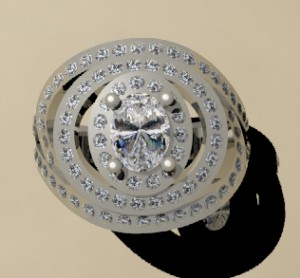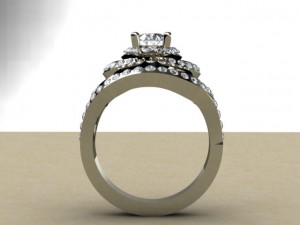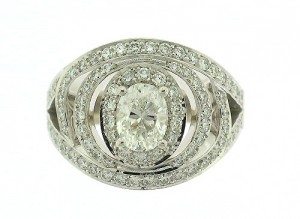 Israel Map Pendant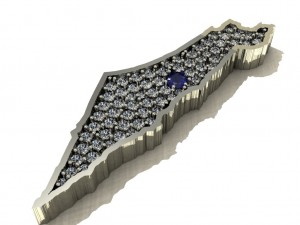 When the customer viewed the Computer rendered design they decided they didn't love the white gold border. We were still on the design construction phase and were able to make changes to the design. The final creation below was created without the white gold border.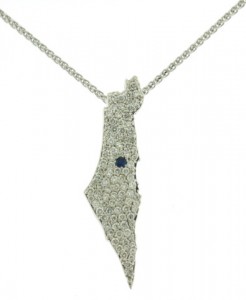 Diamond & Tahitian Pearl Bow Brooch
If our clients want to see the actual size of the piece we are designing we create a wax model of the design for them to see.