Another classic Halo design with a Cushion cut center diamond and gold beading on the edges. So pretty!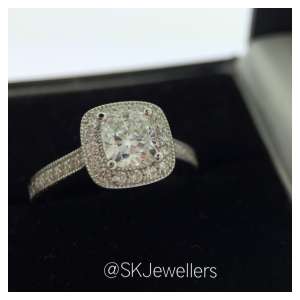 Cushion cut diamond's have become more and more popular. I've worked on many Cushion cut settings in the last 2 years and I believe the shapes popularity is going to hold strong. The cushion cut exhibits a softer look than a Princess cut, with rounded corners. They are available with a square outline or an elongated (rectangular) outline. To achieve a square outline look for a length to width ratio of 1.00-1.05 and if you prefer a rectangular outline look for length to width ratio of greater than 1.15. I've been designing many Cushion cuts in a Halo style setting but they also show very nicely in more simple solitaire settings.
Do you prefer the square or elongated outline?
-Melissa Spivak