Flowers are a classic motif in jewellery design and they have proven time and time again to have staying power.
Flowers have always represented an air of femininity, grace, beauty and romance. From the Victorian age to the flower children of the 60's and 70's, floral jewellery has been all the rage.
This season large rings that span over 2 or more fingers are in style, which is what we see here with this diamond covered flower ring. It sits between two fingers which gives it a contemporary twist. And I have to mention that it feels so nice on the hand: it's very comfortable to wear. The petals all have a slightly different shape and angle which gives the ring movement to the eye.  And the middle of the flower has tiny diamond flower buds. The detail and workmanship that has been put into this ring is mesmerizing.
This ring can be worked into any trend-setter's collection…maybe even mine.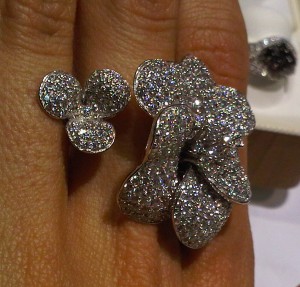 Gentleman: If your lady loves flowers…Here is one that will never wilt. *wink wink*